Finally some good news - our first cd has been released! How to get it? Visit our merch-section or buy directly at KLOWNHOUSE RECORDZ.
What else? A tour is being planned for September (1st - 17th), offers are still welcome...

HIROSHIMA MON AMOUR 15/05/06

The day of our first release is approaching rapidly, clearly indicated by the fact that you can admire the front cover now.

HIROSHIMA MON AMOUR 27/03/06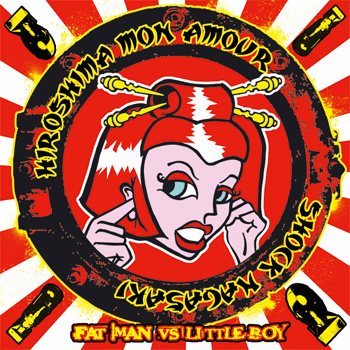 The search is over: a new six-string player is amongst us. His name is Patrick and he is a prime 25 years of age. Please join us with applause in welcoming Patrick.

HIROSHIMA MON AMOUR 22/03/06

Sad news from the HIROSHIMA MON AMOUR headquarters - as of now STEVO SALTIMBOCCA is no longer part of the band. We would like to thank him for the time we had together and wish him all the best!!! The reasons aren't of any concern to anyone and won't be addressed here.
IMPORTANT:
As a result, the gigs in CHEMNITZ and ERFURT (March 10th/11th) have to be postponed but will take place as soon as possible. Any other gigs will take place as planned, hopefully with a worthy successor...

HIROSHIMA MON AMOUR 07/03/06

To all our communist/socialist/anarchical/different natured left-wing comrades in arms a Merry Christmas and a prosperous New Year!
NO MORE WAR
NO MORE FASCISM
NO MORE RAIN

HIROSHIMA MON AMOUR 22/12/05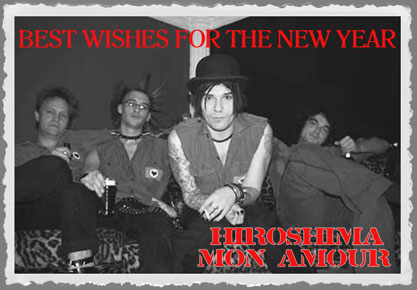 Today we warmly recommend to visit our download section, there you will find a live recording of HMa's appearance at radio ct, including a live and unplugged version of "Not guilty".

HIROSHIMA MON AMOUR 17/12/05

DEAR COMRADES - the hectic time takes its toll on us too, so some of our live dates had to be rescheduled. Tickets bought in advance are still valid. The new dates:
23.02.05 KÖLN - ALL AREAS
03.02.06 MÜNCHEN - A5
10.02.06 STUTTGART
11.02.06 OFFENBURG
If you have any questions just go ahead and ask!!!
Thanks again to everyone who was at our Duisburg concert, it has been a pleasure to celebrate with you. Soon you will find a small and dirty behind the scenes review here, as well as a report on our little pub-unplugged-tour and again thanks to everyone who joined us there! One thing straight away, Bochum's Club FREIBEUTER is not ROCK'N'ROLL!

HIROSHIMA MON AMOUR 16/12/05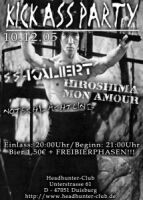 Hello friends of upscale entertainment, in response to the high demand we pulled ourselves together and finally landed a couple of gigs, here the exact dates:
10/12/05 - Duisburg HEADHUNTER CLUB + SSkaliert + NOTSCHLACHTUNG
How to get there: www.headhunter-club.de
23/12/05 - Köln ALL AREAS + PISSED BUT SEXY + THE VAGEENAS
10/02/06 Stuttgart: + PUNX ARMY
11/02/06 - München A5 + PUNX ARMY
How to get there: www.a5-concerts.de
Apart from that - KEEP ON VOTING!!!




HIROSHIMA MON AMOUR 18/11/05

News from HIROSHIMA MON AMOUR: To begin with, we would like to recommend you warmly to click the "LIVE" button because there you will find some pictures and a small but exquisite review of our gig at the AKZ RECKLINGHAUSEN (which will be available in English as soon as someone finds time to translate it...), furthermore you can find out the frequency to tune in to on December 15th because then you can hear us live at radio ct from 9 to 10 pm. We will play two songs unplugged, be interviewed and put on some records, so don't miss it.
Last but not least, you can vote for us again. Now our song "HEUTE HIER MORGEN TOT" is waiting to conquer the resistance charts. Just click the banner and you are there - but please bear in mind to refrain from cheating, otherwise we will be banned from the charts again.




HIROSHIMA MON AMOUR 04/11/05

AHOY and ALOHA, thanks to everyone who witnessed our live debut in Recklinghausen and bestowed a wonderful evening upon us. The party was intoxicating and you can read all about it in our soon to come new section "reviews". We will report unsparingly on mean promoters, bad food and crappy sound. None of which was the case in Recklinghausen by the way. Sadly we failed to organize someone to take pictures, so if anybody has taken any pics please send them to us!

HIROSHIMA MON AMOUR 29/10/05

Dear friends of good taste,
we've got news: On October 28th we will be on stage at "AKZ Recklinghausen" together with GUITARSHOP ASSHOLE. Admission is 3 Euro, beginning is at 8 pm sharp so please be on time. You find details on how to get there on www.akz-re.de!

HIROSHIMA MON AMOUR 19/10/05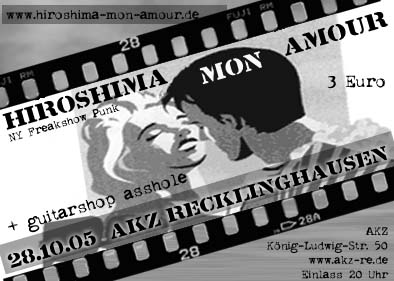 Dear people,
sad but true, our gig scheduled for October 22nd @ the Oblomow had to be cancelled since custodians of the law got wind of the plans. Well, we continue looking for somewhere to celebrate our live debut. Anyone who might help is sincerely invited to do so.

HIROSHIMA MON AMOUR 11/10/05

And finally the wait is over - now you find three full-length songs in our download section. Listen and be thrilled!

HIROSHIMA MON AMOUR 27/09/05

Good things come to those who wait and haste makes waste anyway. Meaning? Exactly. Filling the download section will take a little more time but on September 29th the show will begin.
Until then - fare thee well!

HIROSHIMA MON AMOUR 23/09/05

RED HOT: Dear folks, keep your agendas free for October 22nd, this is the date of our first gig taking place in Bochum. KROITERFROINDE and NIEMANDSKIND will string up as well. Since the event is inofficial we must not name the venue directly but we're happy to give you some clues: it's the favourite drinking hole of HIROSHIMA MON AMOUR and it's only 100 m bee-line from Bochum's main station.
Admission is free, beginning is at 7ish, afterwards several band members will take care of the turntables, so dress up and come along!

HIROSHIMA MON AMOUR 09/09/05

The more glory the more foes, great minds divide mankind, success is one man's friend and another man's envy, envy is the most genuine expression of admiration and mud is bad not all the time...
...a wise person once said and now that our website has been launched we at HIROSHIMA MON AMOUR headquarters are inclined to believe it. Thank you for your numerous reactions, especially for hate mail received privately, evidently we are heading the right way. However, we are not only on the right way but in the studio as well and everything's going fine. If everything continues to go fine, you can listen to a couple of songs on this very channel from September 26th.
At the moment we focus on our first gigs, read more about this next month. Negotiations are still being conducted, but our live debut will be celebrated this year, that's for sure.

CONDEMNED TO ROCK
HIROSHIMA MON AMOUR 07/09/05

...here we are here we stay and here we plan to stay...

Welcome to the wonderful website of HIROSHIMA MON AMOUR!!!
Eh...? HIROSHIMA MON AMOUR??? Yeah right, yet another untalented young band who hasn't launched any records but its own site. I'm bound to say we are winners!
From now on here and only here you'll be updated what's going on with us and only us, in case God finds time to care.
To begin with, in the very near future, to be precise on September 7th, our first studio date is due. For you and only for you we are going to record a couple of songs which you'll be able to download here for free (of course). Besides, endless releases and gigs are planned and this is where you enter the scheme - we can be booked, we're a bargain and come house-trained as well! For details have a look at CONTACT and get in touch. If you want to find out more about us just click the respective button.
Until next month we remain with kindest regards

HIROSHIMA MON AMOUR 15/08/05